How to Photograph European Holiday Markets, with Travel Blogger Helene Sula
Few holiday experiences beat a visit to the charming European holiday markets, and travel blogger Helene Sula knows these festive stalls like the back of her hand. Sula, best known for her travel blog Helene in Between, has visited more than 100 markets in the past six years. That's a dream for any travel photographer — and she made this her reality by taking a big leap.
"In 2016, I moved from Dallas to Heidelberg, Germany. We picked Heidelberg having never stepped foot in Germany," she says. "Not only was this the perfect place for us to live — it also has one the best Christmas markets in Europe."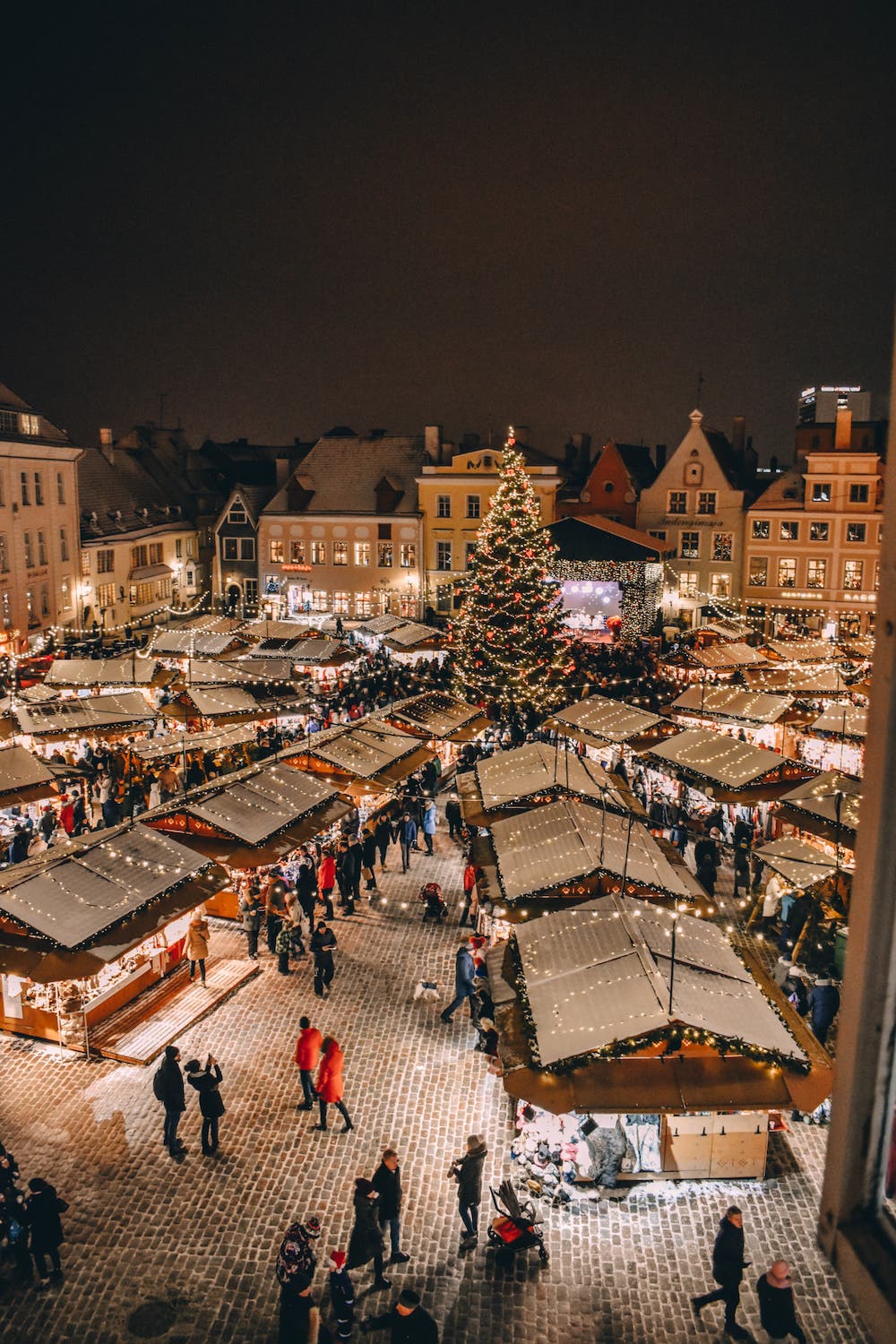 During those three years in Germany, Sula became a holiday-market expert. She went nearly every day of the Christmas market season."
"I just can't get enough!" she says.
We sat down with Sula to learn her best tips and tricks for photographing holiday markets. Read on for the must-have holiday-market insights she was excited to share!
Photogenic holiday markets to consider
Where do you start when it comes to picking a holiday market to photograph? Of course, there's Sula's go-to, the Heidelberg Christmas Market, which brings festive flair to this idyllic 17th-century German town. Although, this is hardly the only holiday market to photograph.
Here's her breakdown of favorite holiday markets by category:
Best overall – Cologne, Germany
Best from above – Tallinn, Estonia
Most elegant – Vienna, Austria
Most over-the-top – Strasbourg, France
Named best Christmas market for 2021 – Basel, Switzerland
How to photograph European holiday markets
With falling snow, holiday lights (hello, bokeh!), and colors galore, European markets are bursting at the seams with photographic potential. Helena's advice for capturing the magic? Find a vantage point.
"Look for a tall building or church, and see if you can get up there to survey the scene," she says.
Additionally, Sula suggests using the markets to frame your photos, such as the twinkling lights on the wooden stalls or Christmas tree branches to frame the grand buildings.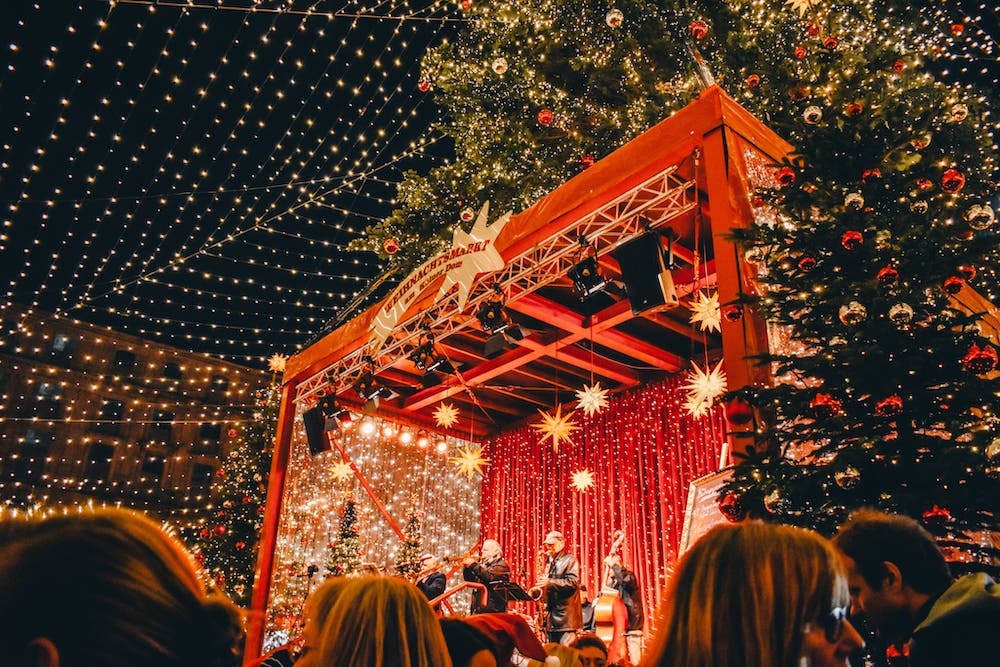 What to photograph at a holiday market
Sula also recommends understanding what each market is known for before you go so you can photograph not just the sights, but the character. She offers a breakdown of German Christmas markets on her blog.
"No Christmas market is complete without a steaming hot cup of the sweet, spicy mulled wine — and this also makes for a great photo," she says. "And of course, sausages are a big hit! At the markets, you'll find roasted chestnuts, gingerbread, or crepes at French markets. Food is always great to photograph."
The other subject she recommends photographing at holiday markets? You!
"I love having myself or my husband in a frame because it shows my joy for the markets," she says. "I often wear red or white to go with the overall theme of the market."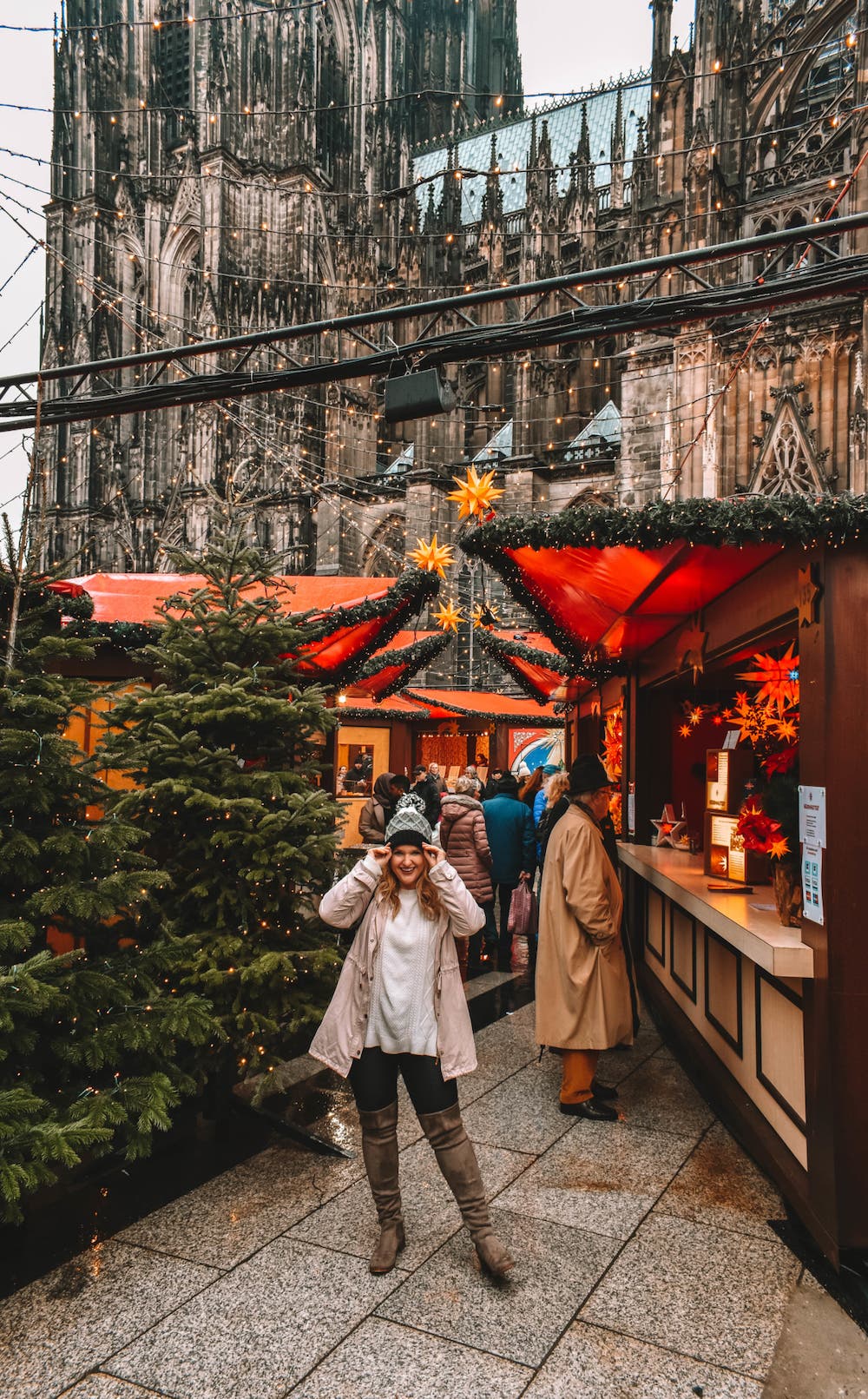 When to photograph holiday markets
Most holiday markets run from late November through the end of December and, in some cases, into January. Sula likes to photograph the markets just after sunset — the ideal time to pair a warm glow from the holiday lights with the cooler hues of blue hour.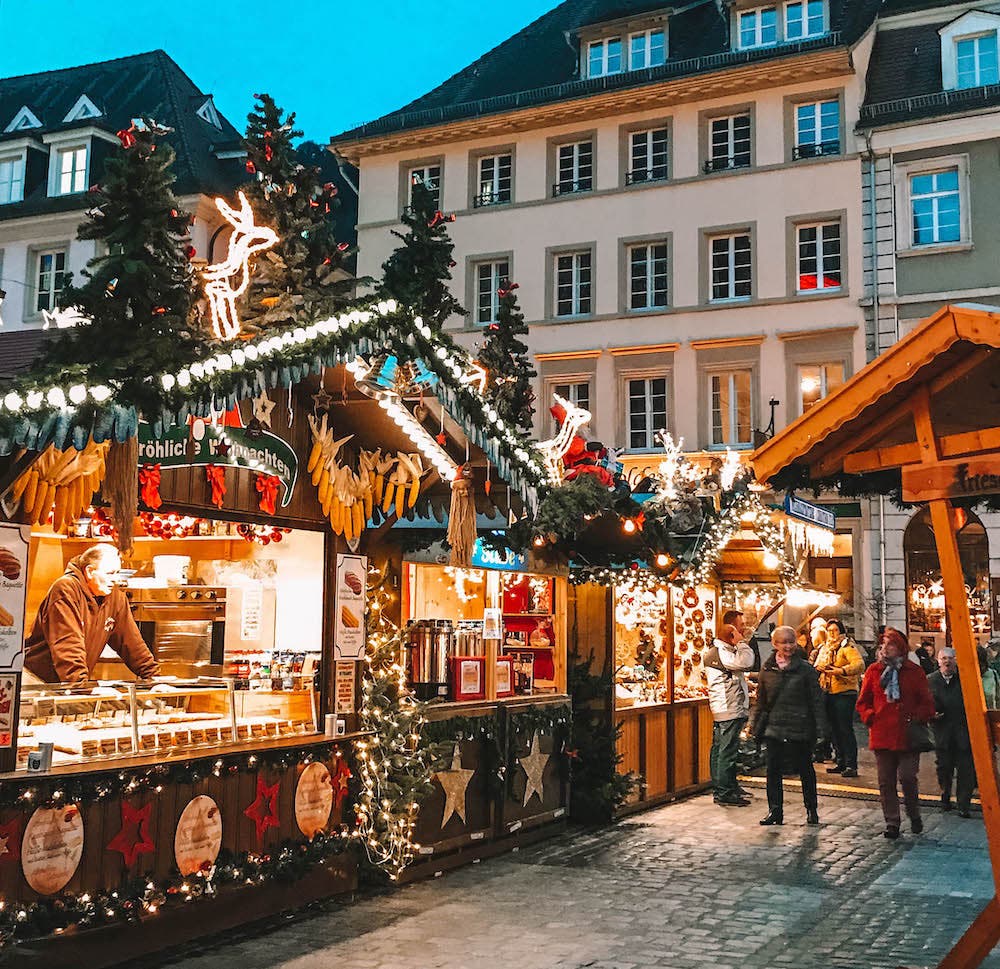 "Blue hour gives the lights the perfect twinkle, but there's still enough light outside to capture the scene," she says, noting snowfall is another perfect time to get that camera ready. Just make sure to have an umbrella ready to keep your gear safe.
"If it's snowing, which it often is in many of the markets, it gives the town and countryside an overall feeling of peace and calm," she says. "I love to see a light dusting of snow on rooftops and church spires."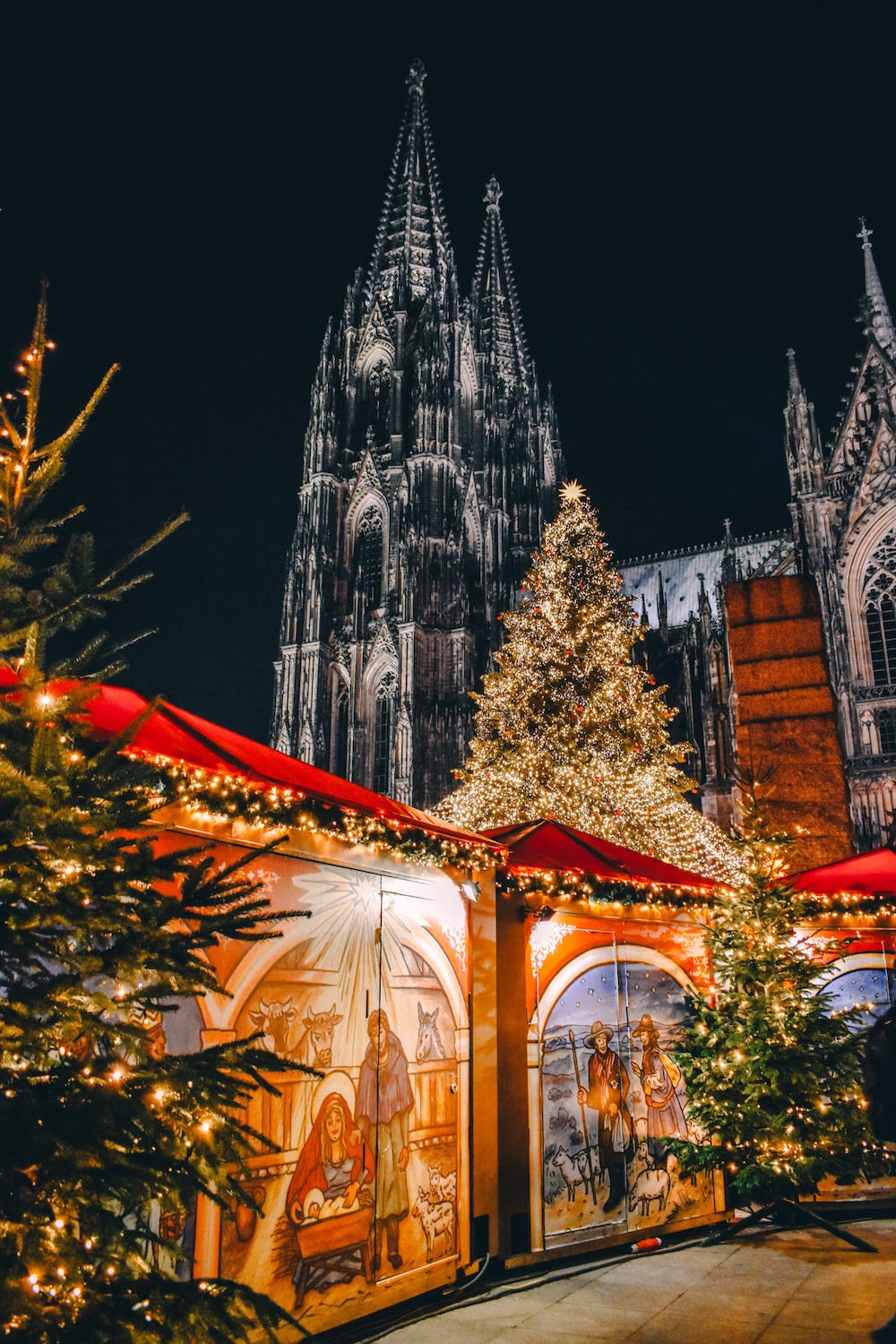 More holiday market tips
Photography isn't the only reason to visit holiday markets. Experiencing radiating joy and the infectious holiday spirit is nothing if not magical — and it's well worth some quality time away from the camera.
"Christmas markets in Europe are truly a snow globe scene coming to life," Sula says. "Hand-carved wooden stalls selling the most delicious treats, exquisite ornaments, people singing carols, and each small village, town, and city comes together to make the Christmas season part of the fabric of the community."
Her biggest non-photo tip for visit Europe's Christmas markets is to always bring cash. She also suggests bringing a tote bag for the things you might purchase at the market — handmade toys and ornaments, sheepskin, crafts, and goodies.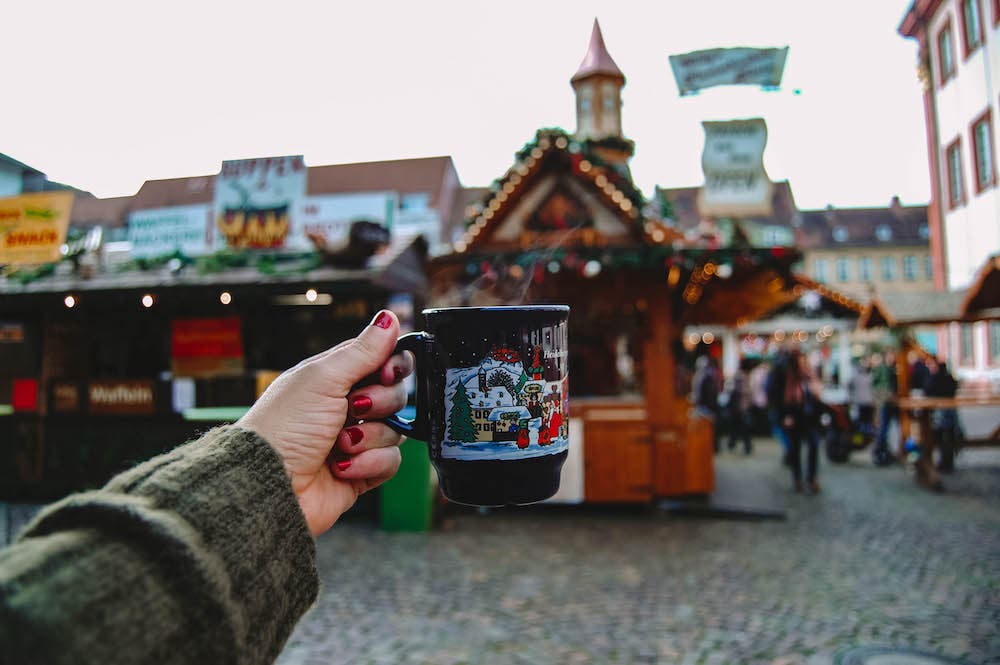 Also, don't forget to dress for the occasion — and we're not talking Santa hats and "ugly" holiday sweaters.
"The winter markets can be cold, so make sure to bring something warm and comfortable shoes," Sula says. "You'll most likely be on your feet to peruse the stalls."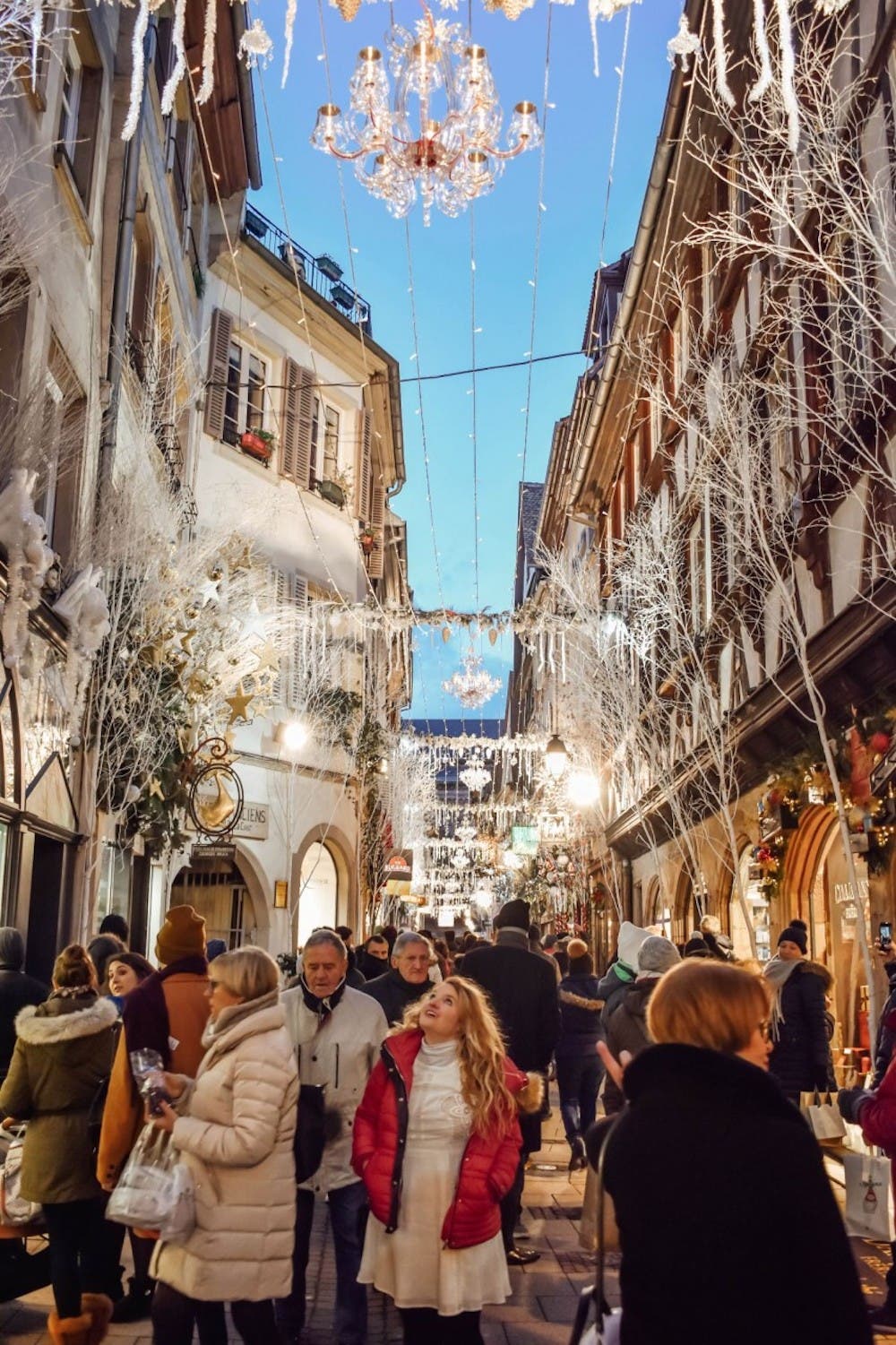 Gear for photographing European holiday markets
Sula's go-to gear for photographing Christmas markets includes:
For more travel inspiration, don't miss our interview with travel blogger Amanda Williams of A Dangerous Business!